2021 QUARTER HORSE SEASON COMES TO A CLOSE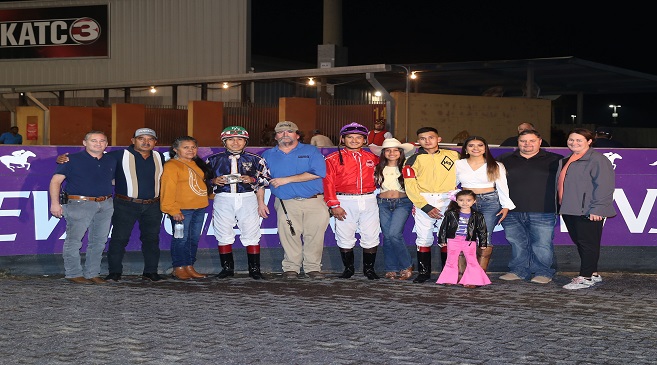 FOR IMMEDIATE RELEASE
MONDAY, JANUARY 3, 2022
FOR MORE INFORMATION,
CONTACT ROB TUEL
866-472-2466 EXT. 3149
EVERARDO RODRIGUEZ, ROSENDO VALDEZ, JR. AND ROSENDO VALDEZ DOMINATE AT EVANGELINE DOWNS
THE 53-NIGHT MEET CONCLUDED ON DECEMBER 30
OPELOUSAS, LA –The team of jockey Everardo Rodriguez and trainer Rosendo Valdez, Jr. were a force to be reckoned with at the recently concluded 2021 Evangeline Downs American Quarter Horse meet. The duo teamed up to win at an incredible strike rate of 69%, propelling each to easy titles in their respective categories.
Rodriguez finished the meet with 78 victories in 237 mounts, a 33% winning rate, more than double the 36 wins of runner-up Juan Francisco Garcia, Jr. With 32 place finishes and 34 show efforts, mounts with Rodriguez in the irons hit the board 61% of the time. Rodriguez led the jockeys in purse winnings with $1,405,558. Two other riders finished with over a half-million in earnings, with jockey David Alvarez at $581,438 and Ubaldo Luna with $514,567.
Everardo Rodriguez was the nation's leading rider by wins for 2021, with 147 victories, and second in the nation with purse earnings of $3,410,643. David Alvarez finished the year second in the nation with 120 victories.
Completing the top 10 jockeys for the 2021 meet were: Juan Francisco Garcia, Jr. (36), Ubaldo Luna (33), David Alvarez (33), Guadalupe Lucio, Jr. (28), Leonardo Rodriguez (22), Arturo Alvarez (19), Jose Ariel Rodriguez (19), Noe Castaneda (18) and Ricardo Hernandez, Jr. (15).
Trainer Rosendo Valdez, Jr. was unstoppable as the meet's leading trainer, sending out winners at a win rate of 54%. The total of 38 wins included a streak of 11 straight runners that found the winner's circle. From 71 starters, Valdez, Jr. runners added 11 seconds and eight thirds and hit the board 80% of the time. Other trainers with solid on-the-board percentages were Luis Martinez at 71%, Hector Alcala at 58%, with Trey Ellis and Lanny Keith trainees hitting the board at 57% each.
Valdez, trainer of Louisiana Million winner Blood Money, led the standings with purse earnings topping the million-dollar mark at $1,076,036. Hector Alcala, trainer of LQHBA Sales Futurity winner San Lorenzeaux, was second on the list at $619,923. Other trainers to eclipse the $400,000 earnings mark were Trey Ellis at $409,505 and Kenny Roberts at $406,792.
Rounding out the top 10 in the trainer standings were: Trey Ellis (31), Orlando Orozco (20), Lanny Keith (18), Kenny Roberts (18), Manuel Macias (15), Martin Trejo (13), Hector Alcala (12), Luis Martinez (11) and Josue Huitron (11).
Leading owner Rosendo Valdez was easily best at the 2021 meet with his runners winning 24 times from 41 starts, a phenomenal 59% clip. With four runner-up finishes and five shows, it added up to runners hitting the board 80% of the time. Rogelio Marquez, Jr., owner of San Lorenzeaux, led the purse standings with $608,333 in winnings. Rojas Racing Stables LLC (Ebelyn Rojas), owner of Blood Money, was second with $523,091 and the Valdez runners earned $278,731.
Following Valdez in the owner standings by wins for 2021 were: Jose O. Barron (10), Rogelio Marquez, Jr. (10), Gene Cox (7), Robin Redding (5), Jose Rodriguez (5), Jaime Cardenas (4), Manuel Pizana (4), Fausto Mendoza (4), and Cuadra Santa Cruz, LLC (Emeterio Mendez) also with four.
The 2022 Evangeline Downs Thoroughbred season kicks off on April 6. Racing will be conducted on a Wednesday through Saturday schedule and runs through August 27.
Evangeline Downs Racetrack Casino and Hotel, a property of Boyd Gaming Corporation (NYSE:BYD), features exciting casino action, live horse racing and fun dining experiences. Evangeline Downs is located in Opelousas, Louisiana, off I-49 on Cresswell Lane at Exit 18.
-
30-